The complete guide to discovering Bangkok, the Thai capital, general information, places to visit, accommodation, transport, photos, videos, maps, and other practical advice.
Bangkok, with its many facets, is one of the most visited cities in the world; it is an international platform for business, tourism, arts, fashion, entertainment, and health.
General information
The capital of Thailand is also a province, with an area of 1,568.7 square kilometers and a population of over 8 million.
This huge urban area, where 12.6% of Thailand's population lives, has a significant impact on the country's political, economic, and cultural life.
The city has many centers of interest; it is impossible to be bored there!
It has more than 400 magnificent Buddhist temples, palaces, canals, markets, gigantic shopping centers, old districts, and other very modern ones.
When to go to Bangkok
The Thai capital has a tropical climate marked by two seasons: the dry season from November to April and the rainy season from May to October.
The best season to visit Bangkok is from November to March, it is the cold season, which does not mean that it is cool but that it is not so hot.
Temperature, precipitation, and sunshine over one year
For more information, see :
When to go to Thailand
Or
Thailand weather: 6-day forecast + Climate and Seasons
Full names
Thai people never say "Bangkok" to designate their capital; they use "Krung Thep," which is short for :
"Krung Thep Mahanakhon amon rattanakosin mahintara Ayuthaya mahadilok phop noppharat Ratchathani burirom udomratchaniwet mahasathan Amon Piman awatan sathit sakkathattiya witsanukam prast."
and that means:
"City of angels, big city, residence of the Emerald Buddha, impregnable city of the god Indra, great capital of the world chiseled with nine precious stones, happy city, generous in the enormous Royal Palace similar to the heavenly dwelling, reign of the reincarnated god, city dedicated to Indra and built by Vishnukarn
The Guinness Book of Records noted it as the longest place name in the world.
History
Before becoming the capital, Bangkok was a village located on the west bank of the Chao Phraya river (Thonburi district).
It was occupied by French troops on 16 October 1687, the king of Ayutthaya, Narai, officially giving it to them by treaty on 1 December.
However, during Narai's agony on June 1688, his future successor Phetracha laid siege to the city and succeeded in expelling the French in November.
King Taksin, after the loss of Ayutthaya in 1767, withdrew to the site and decided to found a new capital there.
Later, Taksin went mad and was assassinated by General Chakri, who then became king under the name of Rama I and then founded the Chakri dynasty, which still reigns today.
The new capital, named Krung Thep (diminutive), was officially founded on April 6, 1782.
The name Bangkok whose origin is unknown (there are many theories), was mainly used by foreigners and was no longer used by Thais after the foundation of this capital.
Some Thai people have never even heard of this name, and through a great mystery, the new name has never been adopted by foreigners who continue 200 years later to name the city Bangkok.
To see and do in Bangkok
See also:
What to do in Bangkok: Top 10 visits not to miss out!
Grand Palace (Royal Palace)
A must-see monument where the statue of the Emerald Buddha is located.
See article: The Grand Palace (Royal Palace) and the Emerald Buddha in Bangkok
Wat Pho, the temple of the reclining Buddha
Which is right next to the Grand Palais, see our article:
Wat Pho, the temple of the Buddha lying in Bangkok
Wat Saket – Temple of the golden mount
This sacred temple is built on an artificial hill 75 meters high that overlooks Ratchadamnoen Avenue.
His golden cheddar would contain real ashes of Buddha.
From Wat Saket you have an incredible panoramic view of the city.
Visits are allowed between 7:30 am and 5:30 pm; the entrance fee is 20 baht.
Wat Arun
Wat Arun is a magnificent temple that has an 80 meter high Prang covered with ceramics; it is one of the most visited monuments in Bangkok.
It is located on the other side of Chao Phraya, in front of Wat Pho.
See our article :
Wat Arun: Temple of the dawn in Bangkok
Wat Traimit and it's Golden Buddha
Wat TraimitWat Traimit is known worldwide for its Golden Buddha 3 meters high and weighing 5.5 tonnes of solid gold.
See our article :
The incredible story of the Golden Buddha of Bangkok
The Dusit Zoo
It is the oldest zoo in the city; originally, it was a botanical garden.
You will see mammals (giraffes, elephants, kangaroos…), reptiles, birds (penguins), nearly 1600 species of animals from all over the world.
The park also has a small lake with pedal boats and playgrounds for children…
The zoo is open every day from 9 am to 6 pm.
Admission for adults: 150 baht, children: 70 baht.
Website: dusitzoo.org
Jim Thompson's House
It is a group of traditional Thai houses that were moved from Ayutthaya city to Bangkok in the 1950s.
It was in this residence that Jim Thomson lived Jim Thomson, a man who helped Thailand restore the silk industry after World War II.
The residence now has a museum with an exceptional collection of Asian art objects.
See our article :
Jim Thompson's house in Bangkok, an oasis of greenery
Lumphini Stadium
For lovers of Thai boxing.
It is advisable to avoid taking the cheapest seats so as not to be disturbed by the bettors.
See their website to keep informed of upcoming fights: muaythailumpinee.net
Wat Massage School Pho
The Wat Po is the school of Thai traditional medicine and massage from Bangkok.
It offers massages and massage courses to foreigners.
Learn more about the Wat Pho massage school.
Shopping in Bangkok
Chatuchak: the weekend market
Chatuchak is a gigantic covered market where you can find everything, souvenirs, furniture, clothing, food, ancient and modern objects, medicinal plants, etc.
See our article: Chatuchak, the Bangkok Weekend Market
2 Talat Rot Fai, Vintage night markets
Talat means market and Rot Fai train, and so it is the train markets, with a "vintage" or retro atmosphere and where you can find everything, collectibles, antiques, music, clothing, food, gadgets…
There are also small concerts, exhibitions, hairdressing, and tattoo stands.
There was only one Talat Rot Fai, located on the Srinakarin road east of Bangkok, but as it is difficult to access, they created a new, smaller, but easily accessible by the BTS.
Visit the original Talat Rot Fai
It is located at the Srinakarin 51 self; you can take the BTS to the station On Nuts and then reach it by taxi.
It is open from Tuesday to Sunday from 5 pm to 1 am.
Visit the new Talat Rot Fai on Ratchada
It is located 200 meters from the MTR station Thailand Cultural Center (exit three and then turn left).
It is open from Thursday to Sunday, from 5 pm to 1 am.
IconSiam, the mother of all shopping centers
It is the largest shopping center in the country, which has just opened (November 10, 2018).
There is a whole section more dedicated to luxury shops, restaurants, relaxation areas with a park, attractions, and a whole area that deserves to be visited:
SookSiam, a large 16,000 square meter thematic area on the ground floor, aims to promote the arts, culture, and cuisine of Thailand's 77 provinces and has its small floating market.
See our article :
IconSiam, Thailand's largest shopping center
Pantip Plaza, the computer bazaar
The Pantip Plaza is a specialized computer shopping center located on New Phetchaburi Road in the Ratchathewi district.
The sale of counterfeit software and DVDs is one of the reasons for its success and notoriety.
Metro: with the BTS, you have to get off at Ratchathewi station.
More info on Pantip Plaza
MBK Shopping Center
It is one of the most popular shopping centers in the city.
It is a vast commercial complex with an area of more than 89,000 m².
There are clothing shops, jewelry, toys, electronic products (computers, telephony…), restaurants, cinemas, bowling, karaoke…
The MBK Shopping Center is open every day (including holidays) from 10 am to 10 pm.
Address 444 Phayathai Street (Tanon Phayathai) near Jim Thomson's house.
You can go with the BTS: National Stadium station
Accommodation and meals in Bangkok
You will find the best quality/price ratio by comparing the offers via our partner:
Hotels in Bangkok on Expedia.
The city does not lack accommodation, but when you do not know it, the easiest way is to go to one of the two most popular tourist areas, Khao San Road or Sukhumvit :
Khao San road
It is the former backpacker district of the city, a lively square practically 24 hours a day.
You can find cheap accommodation, international cuisine, do some good business or listen to music.
In general, the street is rather quiet before 8 p.m., but after that, it remains awake until dawn.
You can eat and drink at any time of the day or night.
The big flaw of this district is that it is far from the subways.
See hotels in Khao San road on Expedia.
Sukhumvit for all tastes
The best place, in my opinion, to stay in the capital.
In this vast and lively district, you will find cheap hotels such as palaces, many restaurants with Thai or international cuisine, bars and discos, shops and markets, in short, you have a lot to do and discover without having to go very far.
And walking around Sukhumvit is like going around the world quickly, there is an African district, a Japanese, a Muslim, it is a multicultural place.
And the main advantage is that you can move quickly and easily to other interesting places using the underground or aerial metro.
See hotel offers in the Sukhumvit district on Expedia.
See the Sukhumvit map on the forum
Transport in Bangkok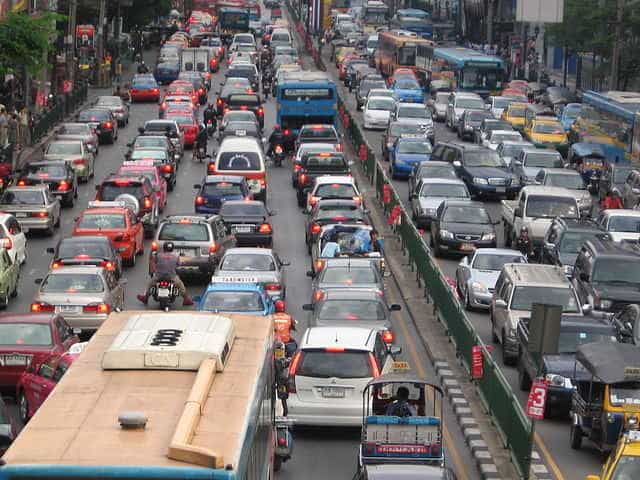 Tip: take one or two business cards from your hotel, to put in different pockets, with the address written in Thai.
Bangkok is a huge city in which it is easy to get lost!
You can book your bus, train, boat, plane tickets with our partner 12go.asia
Airports
You can find the lowest long-haul flight prices to Bangkok by searching by date with Skyscanner.
Suvarnabhumi
it's the country's main airport, where you're sure to land.
Be careful, as for Bangkok and Krung Thep (see above), this airport has two names, Suvarnabhumi for foreigners and Suvarnakhorn for Thais.
Asking a day for my way to the airport of Suvarnabhumi, I found myself with Thai people who didn't understand, so I asked for "the new airport" "sanambin may" and there they understood and answered, "ah Suvarnakhorn."
From the airport, you can reach the city by metro (see below)
Don Muang
It is the former main airport, it is still in operation, and many low-cost airlines will allow you to reach the north and south of the country as well as neighboring countries at a low cost.
Buses to reach or leave Bangkok
Bangkok has three main bus terminals:
Mo Chit (Northern Bus Terminal)
The station mainly serves the northwest (Chiang Mai, Mae Hong Son, Chiang Rai…) and the northeast of the country (Isan).
But there are also buses to the main cities in the south and center.
Sai Tai Taling Chan (Southern Bus Terminal)
The station serving the West (Kanchanaburi…) and South (Phuket, Krabi, Surat Thani…) destinations
Ekamai (Eastern Bus Terminal)
The station, which mainly serves the east of the country (Pattaya, Rayong, Trat…).
See also:
Bangkok to Chiang Mai by train, bus or plane
Taxis, motorcycles, tuk-tuk
The taxi
It is one of the most comfortable ways to travel in Bangkok, and it is not very expensive, 50 baht for an average trip.
But be careful with scams: when you get into the taxi, ask him if it is a taxi-meter and make sure he turns on the meter.
Make sure you also always have a small change to pay for it, taxis never have any.
Don't be surprised if the taxi takes the toll highway and asks you for money; it's up to you to pay the toll in addition to the trip.
The luminous word in red, at the bottom right of the windshield, means "wang," free, if it is off it means that the taxi already has a customer:
The tuk-tuk
It is one of the symbols of the journey in Thailand.
"tuk-tuk" is a repetition of the word "tuk" (or touk), which means "cheap," but the price is often much higher than the price of a taxi.
It's at the customer's head, and you have to love the noise and Bangkok's polluted air!
Motorcycle taxis
A fast but quite dangerous way to get around the capital.
If you use a motorcycle taxi and have a backpack, ask the driver to take the bag between his legs, that's what everyone does because it's dangerous in acceleration to keep weight on his back.
I took one a few years ago that drove extremely fast by zigzagging between cars.
We almost had an accident several times; I remember the cry of a woman whom we rubbed very closely.
I thought I had run into a madman, but soon after, I took another one, and it was even worse!
Public transport
The bus
It is not easy for a foreigner to take the bus to travel in the capital, but it is a very economical way.
For information on Bangkok buses: www.transitbankok.com
Metros
Bangkok has a subway, the MRT, and an aerial metro, the BTS.
It's a quick way to get around.
Map of Bangkok metros
Ships
Going down or up the Chao Praya by boat is a simple and cheap way to get around the capital.
Ship trip maps
User addresses
Tourist Office Bangkok
For practical information, maps and advice on outings (accommodation, food, transport, festivals, cultural events, etc.)
Address: 17/1 Phra Athit Road Phra Nakhon, Bangkok 10200
Telephone: +66 (0)2 225-7612
Website: tourismthailand.org
Bangkok pictures
Videos
Nice video on the places to see:
---
Sources and photos : wikitravel.org; wikipedia.org ; View of the Baiyoke Tower : Kimmam ; Bangkok at night from the Banyan Hotel : Benh LOCATION SONG ; Rivière Chao Phraya : Oliver Spalt ; View of the Grand Palais : Oliver Spalt ; Air underground : Diliff ; Hualomphong, Bangkok station : Funad ; >Parc Lumphini : Terence Ong; Temple Phra Kaeo at the Grand Palace : Aimaimyi ; hao San Road the backpacker district of Bangkok : Kevin Poh ; La voie express la nuit : Mark Fischer ; Bottling in Bangkok : Gemma Longman ; Wat Arun : Jonny Joka ; Le Khlong Saen Saep bus, transport to Bangkok: BrokenSphere ; Chulalongkorn University in Bangkok : uploader ; Jim Thomson's house in Bangkok : Ben&Alix ; Wat Saket, the golden mountain temple Ahoerstemeier ; Bangkok Chinese Quarter : Jabba