One can be surprised at the difference in Buddha's representations depending on whether one is in Thailand, in China or Japan, he is sometimes represented fat and jovial, sometimes thin with a serene face.
In fact, the statues called "Buddhas" everywhere do not represent the same character.
Representation of Buddha: Siddhartha Gautama, the historical Buddha
In countries in Southeast Asia, mainly those where Theravada Buddhism is practiced, the character found everywhere (in temples as well as in the front of cars) is the historical Buddha, Siddhartha Gautama.
It is usually depicted tall, slender with regular features, long hands and delicate feet. Everything about him recalls his noble origin.
As he has lived (and taught) a life of moderation, he is rather represented as thin.
Buddha Representation: Chan Butai, the big Buddha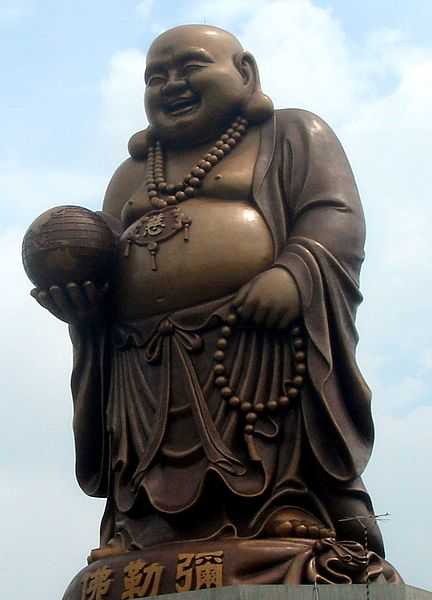 Far from the image of an ascetic, this smiling Buddha is represented as a belly, often surrounded by children and gold bars at his feet.
It is a symbol of prosperity, joy of life, wisdom and good luck:
rubbing his belly would bring wealth and luck, in popular belief.
Buddha Representation: the awake
The explanation is simple: "Buddha" means "awake", at the base.
Anyone, on principle, can therefore become "awake" one day.
This is the case of the Butai (or Pu-tai) monk.
This Zen Buddhist monk lived during the Liang dynasty of China.
Very popular, it is often represented by small statuettes.
It could also be misnamed "Buddha" because of the phonetic similarity between "Buddha" and "Butai"…
---
See also:
Learn to meditate: complete meditation course
---
Source: www.buddhachannel.tv ; Photos : Siddhartha Gautama, the historical Buddha : PierreTo ; Chan Butai or Pu-tai, the big buddha : 邰秉宥
How useful was this post?
Click on a star to rate it!
Average rating / 5. Vote count:
We are sorry that this post was not useful for you!
Let us improve this post!
Thanks for your feedback!