Travel Guide guide to discovering Chiang Mai, what to see, when to go, transport, all the useful information to prepare your trip.
Chiang Mai is a multicultural city, made up of Thai, mountain people and foreign visitors from Asia and the West who come to discover a magnificent region and its world-renowned crafts.
Description
It is the sixth-largest city in Thailand, an important cultural place and the capital of Chiang Mai province (yellow on the map).
It is a student city in addition to being a mecca for tourism, which offers many attractions for its thousands of Thai and foreign visitors.
Chiang Mai's reputation is not new and comes from its strategic location on the ancient Silk Road.
Long before the arrival of foreign tourists, it was already an important center for crafts, parasols, silver jewelry, and wooden sculptures.
Chiang Mai province has a population of about 1.6 million, of which about 700,000 are in Chiang Mai city.
Chiang Mai is located 681 kilometers north of Bangkok, among the highest mountains in the country.
The city is located on the banks of the Ping River (Mae nam Ping in Thai), an important tributary of the Chao Phraya River.
Young Akha girls in Chiang Mai
When to go to Chiang Mai
Chiang Mai has a humid and dry tropical, temperate climate.
It is hot all year round during the day but nights can be quite cold between December and March when temperatures can drop to between 14 and 18° Celsius.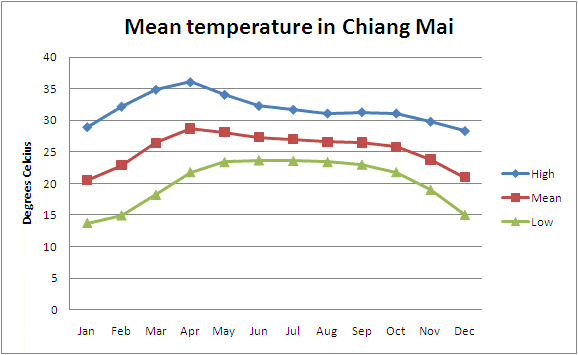 Seasons
There are three seasons, the warm season, the rainy season, and the cold season.
The hot season
It lasts from March to June with daily temperatures between 30 and 35°C and occasional storms.
The climate in the city becomes very dry, and the air can be polluted by the combustion smoke from crops (for operational purposes).
It is the least recommended time of year to visit the region, especially for people with respiratory problems such as asthma.
The rainy season
It starts in July and ends in September.
But it doesn't rain every day, it's often heavy showers, but they don't last long.
The cool season
It lasts from October to February; it is a good time to visit the north of the country.
It is also the high tourist season.
But evenings can be a little chilly, so a light jacket or sweater is recommended.
You can follow the weather in the main regions of Thailand here:
Weather in Thailand: 6-day forecast + Climate and Seasons
History
King Mengrai founded Chiang Mai (meaning "new city") on April 12, 1296, it succeeded Chiang Rai as the capital of the Lanna kingdom.
Mengrai had a ditch and wall built around the city to protect it from Burmese attacks.
The city lost its importance with the decline of the Lanna kingdom and was often occupied by the Burmese or Thais of the Ayutthaya kingdom.
Between 1546 and 1556 it was reunited in the kingdom of Lan Xang and ruled by King Setthathirath, then came under the rule of the Burmese Taungû dynasty from 1558 to 1725.
During the war against the Konbaung Burmese dynasty, Chiang Mai was deserted and remained abandoned for fifteen years (1776 – 1791).
Lampang was the capital of what was left of Lanna's kingdom during this period.
Chiang Mai became a region of Siam in 1774 when King Taksin took it back from the Burmese.
The city then rebuilt itself culturally and economically to become the capital of northern Thailand, the second-largest city after Bangkok.
Things to do in Chiang Mai
The city does not lack attractions and places to visit:
Hotel in Chiang Mai
You will have no trouble finding hotel places, but if you come between November and February, the high season in Thailand, it is better to book in advance.
You can compare the largest travel sites in a single search to find the best hotel offers with Hotellook.com
Transport
You can book your plane, bus, train or boat tickets via our partner: 12go.asia

How to get to or from Chiang Mai
By bus
From Bangkok you have to go to Mo Chit bus station, you can also find buses from Kao San Road.
By train
You can reach Chiang Mai by train from Bangkok (Hua Lamphong station).
If you leave Bangkok with the 6 pm night train, you will arrive around 8 am.
By plane
Regular flights connect Bangkok to Chiang Mai from Don Muang or Suvarnabhumi airports; you can find low-cost tickets at about 1000 baht.
You will find links to low-cost company websites on :
Transport in Thailand
See also:
Bangkok to Chiang Mai by train, bus or plane
Moving to Chiang Mai
In hotels and guesthouses, you will find free tourist maps of the city and its surroundings, in English and Thai.
They are useful to indicate the exact destination to a driver.
Namely:
To stop a tuk-tuk, a songtaew, or a taxi, you don't have to show your thumb, but you have to stand at the edge of the sidewalk with your arm outstretched, palm down and wave your hand up and down several times.
To move around the city, you have the choice between:
Tuk-Tuk
A fairly expensive transport that costs between 50 and 100 baht depending on the distance and time of day.
Not the best solution!
The collective red taxi: songtaew

Also called Songthaew (meaning "2 benches") or Silor "4 wheels".
The easiest and most economical way to get around, the race costs 20 baht per person when you stay in the city.
The taxi drops off the various customers following the route it defines and adjusts according to the requests.
Scooter
It is rented between 150 and 250 baht per day (depending on the model and displacement).
To be reserved for those who are used to two-wheelers. Insurance is included but minimal.
It is better to leave a photocopy of the passport and a security deposit with the lessor rather than the original passport because in case of damage to the scooter it can cause you trouble.
A word of advice: if you find yourself with a repair to do, it is better to do it yourself at your own expense in one of the many small garages in the city, because sometimes the rental companies try to rip you off.
And don't forget that the greatest danger in Thailand is the road, be careful!
Taxi-meter
There are a few to be used only for long distances.
Bus
It is the cheapest means of transport, but it is also the most complicated for foreigners who do not speak Thai.
By foot
Compared to other cities, it is quite easy to walk around the center.
Be sure to use the red light stop buttons before crossing; there are many drivers!
Photos of Chiang Mai
Video
A nice little video about the city:
Chiang Mai Maps
City map
Chiang Mai on a Google map
---
Source: wikitravel.org ; Photos : Old Chiang Mai Wall : Martin-Manuel Beaulne ; Old Chiang Mai City : Bjørn Erik Pedersen ; Tuk-tuk : Brownie13 ; Chiang Mai Station : Manop; Baan Haw Mosque: Iceway12; Chiang-Mai Street: Bình Giang; Songtaew Red: Kenneth Robert; Tuk-tuk de la e polic: Takeaway; young girls Akha: Naturepost