Formerly known as Doi Aoy Chang, Doi Suthep-Pui National Park takes its name from the mountain where a hermit named Sudeva lived for many years.
See also :
Chiang Mai: the complete guide to discovering the North rose
Presentation
Doi Suthep-Pui National Park is located in Chiang Mai province, only a few kilometers northwest of Chiang Mai city.
It has a surface area of 265 km².
Doi Suthep is part of the Thanon Thong Chai chain, most of which are made of granite.
The other two peaks are Doi Buak Ha and Doi Pui; the latter is the highest with its 1685 meters.
The park is physically separated into two zones separated by areas between not managed by the park authorities.
West of Chiang Mai is the main area with most of the attractions and headquarters, and the second part is a smaller area around the Mok Fa waterfall about 10 km further north.
The main attractions of the park are the Wat Phra That Doi Suthep, which is built near the top of Doi Suthep, some waterfalls, views, caves, and nature.
The park is ideal for hiking across many trails as well as cycling and camping.
The fauna and flora of Doi Suthep-Pui
The forest areas of the park consist of an evergreen forest at higher elevations above 1000 meters and deciduous forest on the lower parts, with a mixed deciduous and evergreen forest in the ravines and along the waterways.
Common trees include oaks, Dipterocarpaceae, and trees of the magnolia family.
There are nearly 2000 species of ferns and flowering plants, approximately 300 species of birds and many species of mammals.
Mammals such as the Indian muntjac, wild boar, Assam monkey, Indochinese serow, Temminck's cat, Malaysian porcupine, and Asian black bear can be observed here.
Common birds found in the national park include the White-crested Laughingthrush, Giant Beard, Giant Beard, Blue-throated Beard, Grey-headed Pygmy Woodpecker, Grey-chinned Minivet, Blyth's Shrike, Yunnan Fulvetta and Flycatcher Slaty.
The climate in Doi Suthep-Pui National Park
Due to the high altitude, the weather is cold and pleasant all year round, with average temperatures of 20-23°C.
Temperatures can drop to 6°C during the winter nights around February.
Visitors traveling in the park on bicycles are strongly encouraged to bring a sweater to avoid catching cold.
August and September are the wettest months of the year with daily rainfall.
Park entrance fees
The entrance fee for foreigners is 200 THB for adults and 100 THB for children, but there may be additional fees to visit some attractions.
There are several bungalows in the headquarters, Doi Pui Campground, Man Tha Than Waterfall Campground, and Rok Mok Fa Waterfall Station.
The price range ranging from 400 THB to 3000 THB, a significant discount will be applied when booking between Monday and Thursday.
Bungalows can be booked on the Doi Suthep national park website in advance.
As the money transfer must be made within two days and the fact that it takes longer with transfers from abroad, it is only possible to book from Thailand only.
Payments can be made in 7-Eleven stores or banks.
Doi Suthep's Attractions-Pui
Bhubing palace
Bhubing Palace was built in 1961 and is the royal winter residence to house the royal family during their visits to northern Thailand.
The official name of the palace is Phra Tamnak Phu Phing.
The palace is located 4 km west of Wat Phra That Doi Suthep.
There are several buildings, including guest houses for foreign visitors.
The palace is open to the public, except when the royal family is in residence.
The area is ideal for bird watching, butterfly watching, and has a good view of Chiang Mai.
Opening hours are from 8:30 am to 4:15 pm
Wat Phra That Doi Suthep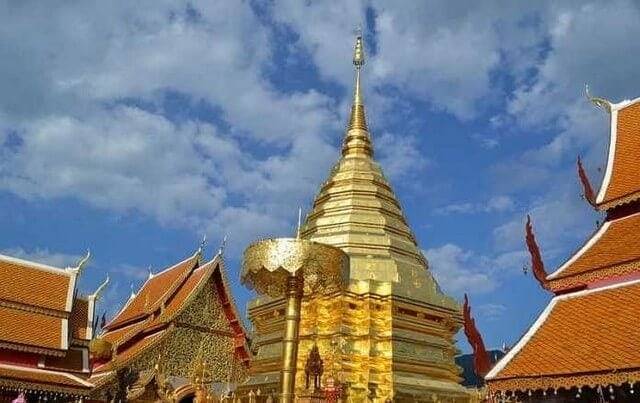 Called Temple Doi Suthep, it is a Buddhist temple with sacred shrines, pagodas, statues, and wall paintings.
The temple is built near the top of Doi Suthep Mountain at 1055 meters above sea level, 14.5 km from the city center of Chiang Mai (old town).
The first Shedi was founded in the 14th century as a Buddhist monastery and is still an active monastery.
It is one of the most sacred sites in the region.
The aspects of the temple derive from Buddhism and Hinduism.
The temple has a model of the Emerald Buddha and a statue of the Hindu god Ganesha.
The temple can be reached from the main road through the national park, accessible by a 309-step staircase or by tramway for 30 baht.
All visitors must remove their shoes and dress appropriately to enter the temple terrace.
See our article: Wat Phrathat Doi Suthep in Chiang Mai
Huey Kaew's Fall
A small waterfall located near the town of Chian Mai on a short walking distance from the main road near the park entrance.
It is popular among local tourists.
There are many butterflies around the waterfall and a short track of nearly 500 meters that leads to the main road to the northwest.
Dtaat Mook's Fall
Located in the north of the national park, accessible by a 7 km long circular path that begins near the Golden Buddha overlooking the Huay Tung Tao reservoir.
The path to the waterfall requires a guide.
There are guides available at the beginning of the tour, cost 200 THB per group.
Yod Doi Pui camping
Located north of Bhubing Palace, accessible from the road that turns right 900 meters west of the palace and 3.8 km north.
The campsite has basic facilities, a restaurant, and a reception center.
The reception center has tents and mountain bikes available for rent.
Tents for two people cost 225 THB per night, sleeping bags, and other accessories are also available for rent from 60 THB.
It is possible to rent a tent with all the sleeping accessories for 405 Baht.
It is recommended that campers use sleeping bags because night temperatures become very cold during certain seasons up to 6°C.
ATVs cost 100 THB per day.
The campsite has about 40-50 tents to rent.
Mok Fah's Fall
Mok Fa or Mork Fa Waterfall is 5-10 minutes walk from the waterfall parking lot.
The entrance to the waterfall is on highway 1095, which connects Chiang Mai to Pai.
The waterfall is located in a physically separate separation zone, 10 km north of the main park area.
There is an information center and a number of bungalows for rent for 1500 THB per night
Doi Suthep-Pui National Park Headquarters
The park's headquarters is located less than one kilometer northwest of Wat Phra That Doi Suthep (the main temple).
Bungalows are available from 400 THB to 2500 THB.
Mon Tha Than waterfall and camping
A popular and often busy waterfall on nine levels.
Upon entering the park less than 1.5 kilometers, a side road on the right will lead to this waterfall.
The waterfall area has a campsite and some bungalows.
Bungalows are available for booking from 1500 THB (see info above on how to book).
Video Doi Suthep-Pui National Park
Google map of Doi Suthep-Pui
---
Photos : Indian muntjac : Khao Yai NP : M. Cooper ; Malaysian macaque : Bernard Dupont ; Asian black bear : Guérin Nicolas ; Gray fly : Hans G. Oberlack; Giant bearded man: Prateik Kulkarni; Bhubing Palace: Magnus Manske; Huey Kaew Waterfall: Poakpong; Yod Doi Pui campsite: adventureinyou.com ; Source : thainationalparks.com
How useful was this post?
Click on a star to rate it!
Average rating / 5. Vote count:
We are sorry that this post was not useful for you!
Let us improve this post!
Thanks for your feedback!